A new dawn, a new day, a new Essco and we're feeling good!
We are delighted to unveil our revitalised company branding, which includes a new name, look and website. This branding reflects the creation of the new 'Essco Group' and represents a big change, with the previous logo having been in place for 13 years. These changes are not just skin deep, we are also enhancing our existing assets with the addition of new products, services and solutions.
The new Essco Group features four divisions. These include Essco Energy, who provide products and systems for building services and industrial applications such as heat networks and heat recovery. Essco Hydronics specialise in flow control for heating and hot water systems and are main distributor of ESBE valves and actuators in the UK. Offering in-house assemblies and bespoke solutions, Essco OEM design and build products to make life simple for residential and commercial HVAC applications. Lastly, Essco Process Valves provide engineered valve solutions for industrial, marine and process applications. Formerly an independent business known as The Valve & Actuator Company, this part of the group has a new name but continues to provide the same great service.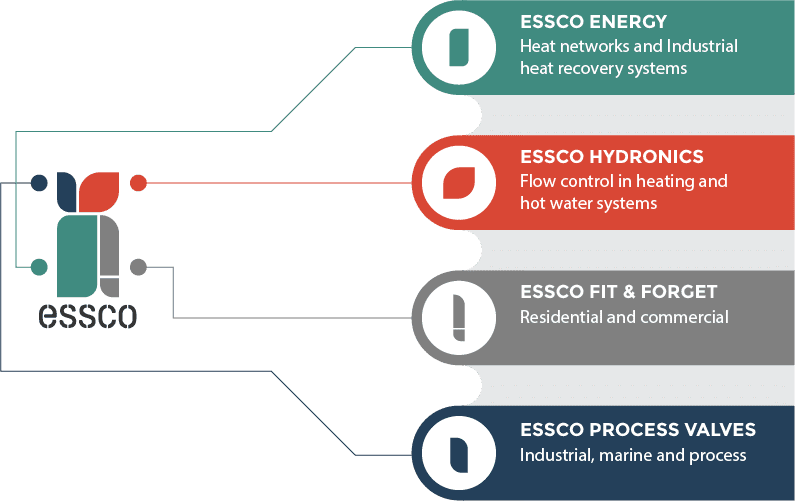 Richard Stammers, Essco Group Managing Director, comments – "A great deal of care and attention has been given to the development of the new look Essco Group. It was important to retain the core strengths of the existing business, whilst aligning the brand with our new mission statement"
He continues – "We're striving to take Essco further, with a mission to deliver the best energy efficient products and systems to the heating, ventilating, air conditioning and process industries, whilst inspiring our team to provide solutions that address the climate crisis"
Originally a trading division of the Douglas Group, Essco has been a well-run family business for 25 years.  The company has been independent since 2007 and recently welcomed Matt Lowe and Matt Trott, who joined the business to strengthen the board and provide further growth.
Collaboration with specialist partners continues to be a key strength and enables us to offer first-class products that are tailored to a range of applications. These include hydronic solutions from ESBE, Minibems IoT technology for heat networks, Elysator chemical-free water treatment and many other market leading suppliers.
For the best energy efficient products and systems, call 01489 779068 to speak to our friendly team or email us using our contact form.