We were pleased to read CIBSE's new guidance on domestic hot water temperatures recently published for heat networks. The guidance recommends a 50°C target for DHW generated at the HIU, something that Essco and other HIU manufacturers and system designers have been pressing for.
Mike Bennett, Essco Design Engineer, comments "This is a really positive step as we work towards net zero and integrate renewable heat sources such as heat pumps that generate primary water at much lower temperatures of around 55-60°C."
He continues "For domestic dwellings, it's a customer service requirement to achieve a minimum of 45°C within 45 seconds of opening the kitchen sink tap to full bore. Because a heat interface unit can only transfer energy from the primary side to the secondary heating and hot water circuits, we drop 3-5K across the plate, so with a lesser primary supply temp of say 55°C, we are still able to generate hot water at around 50°C from the unit, ensuring 45°C at the taps within the time required. The risk of legionella is also controlled as the volume of water in an HIU is often small (less than 15 litres)".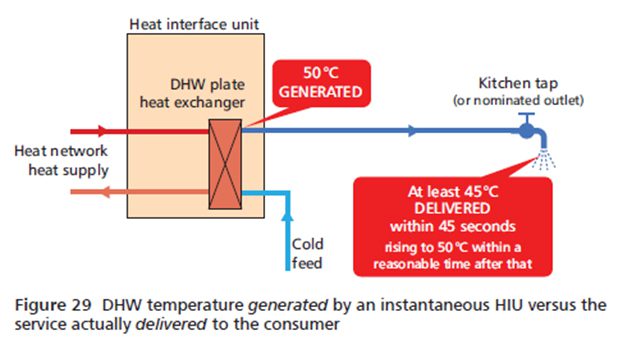 (Image courtesy of CIBSE CP1 above)
Email projects@esscogroup.co.uk for an HIU quotation or to find out how Essco Energy can add value to your next project.